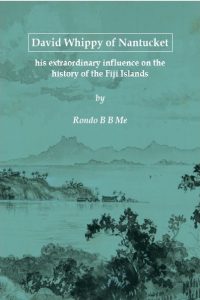 David Whippy of Nantucket, his extraordinary role in the history of the Fiji Islands.
In 1825 the young David Whippy, a native of Nantucket, found himself stranded on Bau Island, the home of the most powerful chief in the Fiji Islands. Unlike many of his contemporaries who returned to their homes, David chose to stay and carve out a life for himself in a land which was slowly coming to grips with the complexities of the interaction between these two very different cultures.
David was a worldbridger: he moved easily between the worlds of the European traders who came to Fiji in search of lucrative cargoes, and the world of his adopted people, the Fijians. As a result of his sobering influence, business acumen, and vision, his new home of Levuka became the main port of call for trading vessels, whaling ships, and foreign naval gunships. The infrastructure that he and his associates evolved, ranging from providing pilots and interpreters to the building of small boats and schooners, made Levuka a commercial port and laid the foundations for the town to become the first capital of Fiji in 1874.
Set against the background of the complex Fijian politics of the period, this book explores David's life, both public and private, over those vital years, culminating in his death in 1871, three years before the Cession of the Islands to Great Britain.
The book also includes genealogical information for the benefit of his descendants.
The information for this book has been drawn from a wide range of original material from many sources, including: 
registers of baptisms and marriages kept by the early missionaries in Fiji
registers of Births, Deaths and Marriages in Fiji since c 1875
ships logs and journals kept by officers of the beche-de-mer trading ships in the 1830s
published accounts of time in Fiji by men who were stranded – eg, William Cary, Robert Coffin
the published account of the United States Exploring Expedition which was in Fiji in 1840
published accounts of Fiji by visiting ships' captains, eg Captain Dumont d'Urville, Captain Erskine, Captain Fanshawe
published papers from the United States Congress
unpublished correspondence from the United States Consul at Laucala from 1846 onwards
missionaries' journals
Mrs Mary Wallis' journals
letters written by David Whippy to his sisters between 1853 and 1867
The book is now available for sale at the Fiji Museum and online at https://cybermarket.com.au/shop/
For further information and to order,  email davidwhippybook@yahoo.com
Comments:
"You've done a most wonderful job Rondo. The family now have their own written history of David Whippy in one book thanks to you Rondo!!!", Michael W, Suva, Fiji
"Fiji will be better for it as they have a documented history of the pioneering David Whippy. Most important and significantly, the Whippy lineage will have access to the historical beginnings." Fred R, Whangerei, NZ