Life for a young lad in Nantucket in the 1800s was fairly well-defined. A minimum education based on Quaker principles and then at age 14 an apprenticeship, usually with your father, more often than not on a whaling ship, for whaling was the principal industry of Nantucket until the 1850s.
Young David Whippey [the name was spelled this way in Nantucket] followed in this tradition and was working on a whaler, the Elizabeth, in 1817. His brother, Josiah, was the Master or Captain of this ship. This trip was to the South Atlantic whaling grounds, which would have been a comparatively short trip of several months, as opposed to the journeys of 2-3 years that eventually became the norm as the whalers ventured into the Pacific Ocean over the early decades of the 19th century.
Life on board was extremely arduous, and very dangerous once in the whaling grounds. When a pod of whales was spotted, the men launched their open whaling boats from the mother ship and rowed in the open ocean towards the whales, and then harpooned them once close enough. The harpooned whale would try to escape, dragging the boat and the men on it on what was known as a 'Nantucket Sleigh-ride'.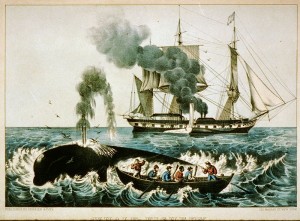 Once the whale was killed, it was hauled on board, and then the task of defleshing and obtaining the prized oil began.
Discipline on board ships was harsh, for these were the days men were flogged for any breach in discipline. Ships' captains had to be strict to preserve the ship and to preserve the life of the crew. Long days at sea were usually filled in by mending sails, painting and varnishing the decking and woodwork. As the old saying goes – 'Idle hands make the Devil's work' and no captain could run the risk of giving men time to think about their situation and foster mutiny.
David made one other trip out of Nantucket, that we know about. This was on the Francis, another whaler, captained by his brother-in-law, Timothy Fitzgerald, with his brother Josiah Whippey as first mate. The Francis left Nantucket in November 1818 and did not return until November 1821.
David did not return on her. For various reasons, no doubt including the harsh discipline on board, he jumped ship in Quayaquil in Ecuador. His brother and Captain Fitzgerald did look for him and delayed their departure from port in an attempt to give him time to return, but his fear of the punishment waiting him on board overrode any desire to return home to Nantucket.
And so the Francis set sail for Nantucket without David Whippey. At 19 years of age the young lad found himself thrown onto his own resources in a foreign city, forced to fend for himself. There can be little doubt such an experience, in what was assuredly a rough and tumble port city, sharpened his wits and taught him resilience and 'street-smarts', all of which he was certainly going to need in later life, as it turned out.
David never saw Nantucket and his family again. Life and Destiny had other things in store for him in a group of islands in the south-west Pacific – islands we now call Fiji and which, in 1821, were virtually unknown to Yankee shipping. They were the home of a people who had had very little contact with the outside world, and where cannibalism and inter-tribal warfare were the norm of daily life. No missionary had ever been there and no European nation had made any attempt to colonise the islands, nor did any have any interest in them.
Little could the 19 year-old David Whippey have known that within a few years it would be he who would come to have an extraordinary influence in shaping the future of these people and their islands.