I arrived in Suva in early February at the height of a very severe outbreak of dengue fever. Hospitals and medical centres across the country were struggling to treat those affected and calls for blood donors were a regular occurrence. Forewarned, I had brought my can of DEET repellent from Brisbane but found I could not abide the smell. Luckily I soon discovered a local product made with essential oils that kept the mozzies at bay.
The mosquito problem under control, it was time to renew old friendships and establish networks to assist my research. As it turned out, establishing new contacts was remarkably easy, partly because of the many friendships I had established on Facebook over the previous years.
One such contact was a man called Johnson Seeto, a member of the academic staff at the University of the South Pacific. Amongst his many interests and abilities,  Johnson loved photography and I always looked forward to his regular postings on Facebook. His photos captured day to day life in Suva and he also had a remarkable ability to capture nature in its perfection. I meet this gentle, softly-spoken man for coffee on my first Saturday in town. As ever he had his camera around his neck and he advised me then to always have a camera with me.
Eventually the conversation turned to my project and what I hoped to achieve while I was in Fiji. I mentioned my disappointment about not being able to get permission to visit Wakaya Island, now privately owned, which is a short distance from Levuka, and where David Whippy and the other white men of Levuka lived in the early 1860s. Johnson recommended I contact a particular lecturer at the University who owned land on Wakaya Island and might be able to help. From this contact I met people from Toki Village near Levuka who were of invaluable assistance to me over the months to come.
Sadly, I never saw Johnson again. While I was out on the islands in March and April, this very special man had a debilitating stroke which left him wheelchair-bound. Undaunted, he fought back and continued to post his photos, a series he called From My Wheelchair for Now.
This gentle, generous man passed away on 20 May. The night before he died, he posted this photograph on his Facebook page. To this day, it remains one of my favourite photographs.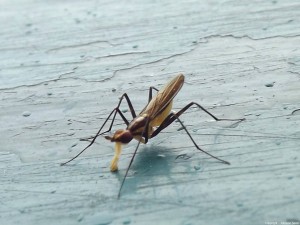 Stilt-legged Fly with a huge tongue, drinking water – from my Wheelchair For Now